WBW...But Not "Way Back"
Here at Casa McAustin it's Welcome Back Wednesday. I love to play the
Kept Woman's Way Back Wednesday
, but didn't have time to dig. I'll be there next week, though.
I have a few minutes to show a bit of what I've been up to today, and it just so happens that my cute kids (all of them) are in these shots...go figure.
7:00 a.m. Office visit to OB
I had a nurse visit today, and since it was early, I was the only patient in the place, and the good doctor had surgery today, I got a bonus (unreported, unauthorized...shhhh, it's a secret!) sonogram of the Princess. As I looked at this while it was scanning, I realized it is a truly horrible picture. But just as the nurse was pushing the still photo button, the baby moved, and the cute shot changed into what you see. Oh well...take note of the chubby cheek....yes, I grow them big. I look like I have either swallowed an extremely large and lopsided watermelon, or have a freakishly huge tumor growing in my groin.
9:00 a.m. Checking out the infant equipment for upcoming company.
Here the Critter and Little Bit are 'helping' to test out the pack-n-play. The BIL & SIL and their Beautiful Wee One are coming. It was going to be the end of this week, but now is postponed two weeks due to Rita.
9:30 a.m. Laundry (Actually, I don't really need to put a time on it; substitute any time, and odds are, I'm doing laundry.)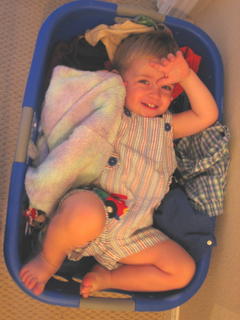 Here's Little Bit 'helping'. Yes, I get LOTS of 'help'.
I won't bore you with the rest of the day, but will say it was packed.
Until next time!